This version of Home Wizard demonstrates how it can display branding for a demo sponsor.
If you are interested in learning how the branded Home Wizard eNewsletter, Facebook post-ables, website, or mobile app version can help you grow your business, please visit:
https://applica-solutions.com/homewizard
Brick Siding
Brick Siding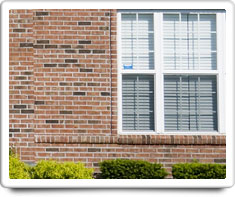 Brick Siding is a veneer layer on the outside of your home, that is made of rectangular-shaped bricks which made of clay or stone, and are held together with mortar.

If your home has Brick Siding in some areas and Wood Siding or Vinyl Siding in other areas, then you should put checkmarks as home features in your Home Wizard app for each type of siding that you have.


See also:
Foundation,
Pest Control,
Vinyl Siding
and
Wood Siding
.
Shown in the 'Routine Care' section are the recommended routine maintenance tasks for your brick siding. The 'Q & A' section shows answers to common questions. And the 'Articles' section provides helpful articles about your brick siding.

Brick Siding
Q & A
So far, no question have been submitted yet.