This version of Home Wizard demonstrates how it can display branding for a demo sponsor.
If you are interested in learning how the branded Home Wizard eNewsletter, Facebook post-ables, website, or mobile app version can help you grow your business, please visit:
https://applica-solutions.com/homewizard
Wood Stove
Wood Stove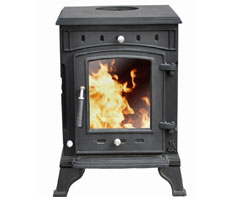 A Wood Stove is a closed metal box with a high-temperature clear ceramic window, that burns wood logs to create heat. A Wood Stove can be a free-standing unit, or it can be a 'fireplace insert' which sits inside of a traditional fireplace.

A Wood Stove is different than a wood-burning Fireplace, which may have glass doors, but is not a closed metal box. And it is different than a Pellet Stove, which also has a closed metal box, but rather than burning full logs, a Pellet Stove burns special pieces of formed wood material called 'pellets.'

Many homeowners who are concerned about rising oil, gas, and electricity prices have wood burning stoves to help reduce their heating costs, others like the aesthetic value of a wood stove. A wood burning stove must be properly installed and maintained to ensure safe operation.


See also:
CO Detectors,
Fireplace (wood-burning)
and
Furnace (gas)
.
Shown in the 'Routine Care' section are the recommended routine maintenance tasks for your wood stove. The 'Q & A' section shows answers to common questions. And the 'Articles' section provides helpful articles about your wood stove.

Wood Stove