This version of Home Wizard demonstrates how it can display branding for a demo sponsor.
If you are interested in learning how the branded Home Wizard eNewsletter, Facebook post-ables, website, or mobile app version can help you grow your business, please visit:
https://applica-solutions.com/homewizard
Marble Floors
Marble Floors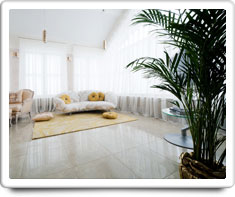 Marble Floors are a type of flooring made from natural stone.

Marble Floors are typically constructed using thin square or rectangular-shaped tiles, which have grouting material in between them to hold them in place.

Marble is a very hard, but porous surface. Spills should be cleaned up immediately to keep stains from seeping into the surface pores of the marble flooring.


See also:
Carpets & Rugs
and
Hardwood Floors
.
Shown in the 'Routine Care' section are the recommended routine maintenance tasks for your marble floors. The 'Q & A' section shows answers to common questions. And the 'Articles' section provides helpful articles about your marble floors.

Marble Floors