This version of Home Wizard demonstrates how it can display branding for a demo sponsor.
If you are interested in learning how the branded Home Wizard eNewsletter, Facebook post-ables, website, or mobile app version can help you grow your business, please visit:
https://applica-solutions.com/homewizard
Decking
Decking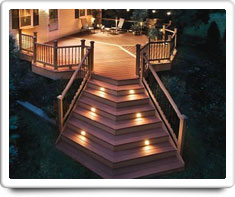 Decking' is a structure that is built on the outside of your home for walking or sitting. Care for decking also includes other structures outside of your home, such as: porches, stairs, railings with bars called 'balustrades', trellises, gazebos, and swing sets.

Decking may be made from a variety of materials such as: soft wood; hardwood; composite materials; and metal.


See also:
Barbecue Grill (gas),
Barbecue Grill (charcoal),
Barbecue Grill (hibachi),
Patio Furniture,
Swimming Pool
and
Hot Tub Spa
.
Shown in the 'Routine Care' section are the recommended routine maintenance tasks for your decking. The 'Q & A' section shows answers to common questions. And the 'Articles' section provides helpful articles about your decking.

Decking