This version of Home Wizard demonstrates how it can display branding for a demo sponsor.
If you are interested in learning how the branded Home Wizard eNewsletter, Facebook post-ables, website, or mobile app version can help you grow your business, please visit:
https://applica-solutions.com/homewizard
Holiday Lighting
Holiday Lighting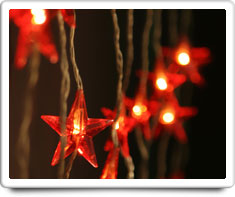 Holiday Lighting is temporary lighting and decorations that are placed outside and/or inside of your home on a seasonal basis as part of celebrating holidays.

If lights for your Holiday Lighting are installed on a permanent basis, then you should put a checkmark for 'Outdoor Lighting' as part of your home features in your Home Wizard app.

More home fires occur during the winter than at any other time. Damaged or low-quality holiday lights, improper usage, and lack of water for fresh trees are among the most common causes.


See also:
Outdoor Lighting
.
Shown in the 'Routine Care' section are the recommended routine maintenance tasks for your holiday lighting. The 'Q & A' section shows answers to common questions. And the 'Articles' section provides helpful articles about your holiday lighting.

Holiday Lighting