This version of Home Wizard demonstrates how it can display branding for a demo sponsor.
If you are interested in learning how the branded Home Wizard eNewsletter, Facebook post-ables, website, or mobile app version can help you grow your business, please visit:
https://applica-solutions.com/homewizard
Freezer (stand-alone)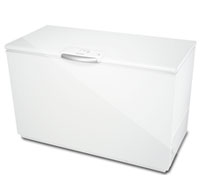 The Home Wizard app calculates your ideal home care program to avoid problems with your Freezer (stand-alone), but sometimes trouble can still occur. Here are answers to questions about freezer (stand-alone) extended warranty.

QUESTION FROM Mark
Hey Wizard,

We purchased a new manual defrost freezer at Sears last night to replace our dinosaur freezer. The sales guy pitched the extended warranty really hard - told me specifically that newer freezers have to be serviced every two years. His reasons were something to do with the oil/freon mix that is in the system. What's the straight talk on this?


Freezer (stand-alone)